What others say about ISR Kentucky Aquatics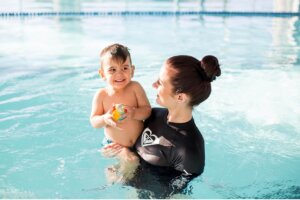 Both of my daughters, age 5 and 2, took the 7 week ISR class. I was amazed at how they both picked up the training that they received. My 5 year old can swim after the 7 week class and has continued maintenance lessons to learn different strokes. My 2 year old is able to float and get to the wall in case of an emergency. She definitely did not care for the class at first, crying for the first 4 weeks, but since then she has really enjoyed the class and continues to love maintenance lessons with Ms. Rachel. I highly recommend- we have such peace of mind. We took other lessons previously and made very little progress in a long period of time. This is a commitment everyday for 7 weeks, but well worth it.
Jill M.
The first reason I enrolled my children in ISR was for safety and the peace of mind of knowing they would have the skills to survive accidentally falling in water, but they have gained so much more! They look forward to lessons, and my oldest especially has thrived learning new skills with a love of swimming. Rachel has been great to work with, genuinely cares for my kids, and communicates well with me about their progress. I highly recommend this for anyone who wants their kids to be safe around water, gain confidence, have fun, and have better swimming skills!
Caroline L.
Mrs. Cheri and Mrs. Rachel have both been wonderful to work with and have such a calming presence. We chose ISR because they focus specifically on self rescue and we spend a lot of time on the water with our infant. Although it is certainly a big commitment, the added peace of mind has made ISR well worth the time and investment.
Michaela S.
Cheri is great (so patient!) and our 6-year-old learned to swim, though I wish we'd done ISR earlier. I definitely recommend it for anyone wanting their littles to be more comfortable in the water.
Jaclyn P.
ISR with Cheri was such a wonderful experience. She is extremely patient and kind, not only with my children but with every child she works with. She truly loves what she does, which is evident through her constant positivity & the rapport she establishes with each child. My husband & I are so proud that our children are able to self-rescue & take every opportunity to brag on them & share the amazing videos from class! We look forward to our refresher classes & recommend using Cheri for swimming survival lessons, hands down! Thank you, Cheri!
Anne D.
Cheri is an amazing instructor. She customizes each training session for every child. Her patience with my son made this a rewarding experience.
Yasmeen F.
Our son started ISR lessons in April 2018. He was 2 years old and absolutely hated the water. I can't praise Cheri enough for all she has done to teach him ISR and to like (maybe love 😊) the water. He did his initial 6 weeks of lessons, and our stubborn boy was self rescuing and even enjoying the water. Sterling can't wait to start his refresher week soon.
Sarah S.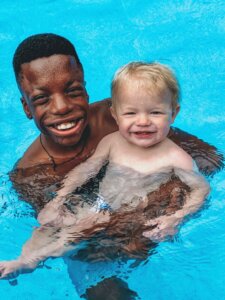 Cheri is an incredible instructor, so patient and knowledgeable. Our son was not the easiest or most cooperative student when he started, but Cheri patiently worked with him until he could successfully self-rescue…and now he is even a good swimmer! I cannot say enough good things about this program or this instructor. Less than a year after graduating the first round of the program, our son (age 2 at the time) slipped and fell into a pool and immediately went into his float and did exactly what he was supposed to do. I will always be thankful to Cheri and ISR for that! It does my heart good to know that my son has the skills to help prevent a drowning incident. The value of this program is PRICELESS!
Chelsea W.